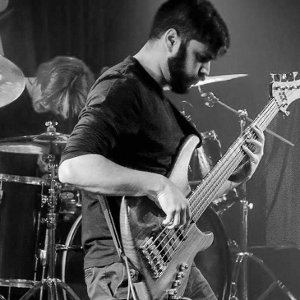 A maestro on bass guitar, Nick teaches bass, electric and acoustic guitar up to a very high standard. He also offers double bass lessons, although not in orchestral styles. Many of Nick's students are studying towards graded RSL exams, which are very popular amongst students here at Booths Music.
Nick has taught professionally for many years and has lots of experience playing in various bands and ensembles across the UK. Nick can teach both the Rockschool and RGT syllabi and places focus on all aspects of playing, including technique, scales, theory and feel.
If you are interested in guitar or bass lessons with us, please fill in the enquiry form below and one of the team will get back to you asap. Alternatively, you can phone 01204 522908 or indeed call into the shop for a chat and perhaps a tour of the place. 
Please remember that Booths Music is a registered Rock School examination centre and students from the local area can choose to sit their graded guitar, bass or drum exam from our studios. We also stock all Rock School exam repertoire and teaching material. Please enquire for more details.
Enquire About Music Lessons
Offering lessons throughout the day and into the evening on Monday, Tuesday, Friday and Saturday, John is an enthusiastic tutor. With … Read more.
James is a fan of many genres and offers teaching rock, pop, hip hop, country, jazz and more. Like many tutors, James tailors his tuition to …Read more.
Tommy tutors drum kit and guitar at Booth's Music on Monday and Wednesday evenings. He has a very keen student base, most of which have… Read More.
Simply fill in the enquiry form below and we'll find a weekly day and time that works for you. These include after school times until 9pm, Saturdays and Sundays. Click the icon above to read more. 
We teach all popular instruments in various styles. All lessons at Booths are one-to-one to provide maximum productivity. All exam boards covered. Click the icon above to read more. 
Read through all the individual profiles of over 30 enthusiastic and experienced music tutors across all instruments as well as the staff here at Booths. Click the icon above to read more.
Read through our latest student achievements at our Bolton centre as well as testimonials from musicians and customers.
STUDENT INSTRUMENTS & MUSIC
Discover our own Booths Music range of student guitars, brass, woodwind and violins and see what sheet music we have in stock. 
Booths is proud to be an official RSL (Rockschool) exam centre, welcoming hundreds of enthusiastic candidates every year.