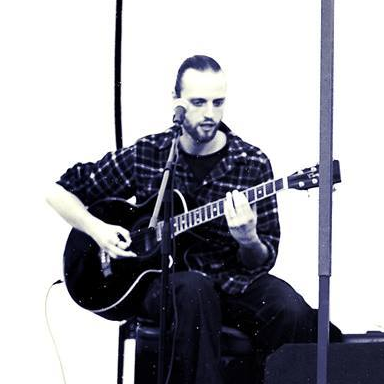 Liam is very popular among his students and has lessons available on Mondays, Tuesdays, Wednesdays and Thursdays from mid afternoon and into the evenings. He teaches electric and acoustic guitar, bass and ukulele from complete beginner level up to and beyond grade 8. Many of Liam's students have taken exams, and he has a 100% pass rate for all who he has entered.
Having taught musical instruments for many years and performed professionally in several bands (including his current group UNDERGROWTH), Liam has a lot to offer all his students.
Particularly popular instruments at present include the Banjo and Ukulele, which are also taught from our downstairs studios alongside the Mandolin. Although these instruments are fun to learn, theory is incorporated into lessons and a high playing standard can be achieved.
Various exam boards are taught at Booths. In particular the RSL Rockschool syllabus is a popular choice with Booths being a registered RSL exam centre for the Bolton area.
Enquire About Music Lessons
Liam is very popular among his students and has lessons available on Tuesday, Wednesday, Thursday and Saturday throughout the day and …Read more.
A maestro on bass guitar, Nick teaches bass electric and acoustic guitar up to a very high standard. He also offers double bass lessons… Read more.
One of our more experienced music teachers, Mike tutors budding musicians of all ages and abilities. With a degree in composition an… Read more.
Teaching electric, acoustic and bass guitar from beginner to a very high standard, Pete has lessons available on Monday evenings and … Read more.
Offering lessons throughout the day and into the evening on Monday, Tuesday, Friday and Saturday, John is an enthusiastic tutor. With … Read more.
James is a fan of many genres and offers teaching rock, pop, hip hop, country, jazz and more. Like many tutors, James tailors his tuition to …Read more.
Tommy tutors drum kit and guitar at Booth's Music on Monday and Wednesday evenings. He has a very keen student base, most of which have… Read More.
Simply fill in the enquiry form below and we'll find a weekly day and time that works for you. These include after school times until 9pm, Saturdays and Sundays. Click the icon above to read more. 
We teach all popular instruments in various styles. All lessons at Booths are one-to-one to provide maximum productivity. All exam boards covered. Click the icon above to read more. 
Read through all the individual profiles of over 30 enthusiastic and experienced music tutors across all instruments as well as the staff here at Booths. Click the icon above to read more.
Read through our latest student achievements at our Bolton centre as well as testimonials from musicians and customers.
STUDENT INSTRUMENTS & MUSIC
Discover our own Booths Music range of student guitars, brass, woodwind and violins and see what sheet music we have in stock. 
Booths is proud to be an official RSL (Rockschool) exam centre, welcoming hundreds of enthusiastic candidates every year.